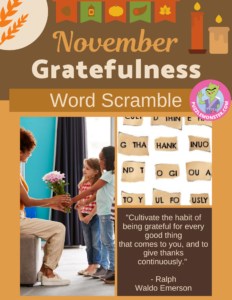 Cultivate gratitude, reinforce a lesson in sentence structure, and teach a bit of literary history all at the same time with this lovely word scramble. Who doesn't love to slow down, take a deep breath and just chill with a good puzzle?
We all know that holidays can be stressful: we want to support you by giving you a handmade puzzle to enjoy. Ralph Waldo Emerson's writings are as relevant now as they were during his time – gratitude is a practice to be cultivated. And it's been proven that puzzles like these help kids — and even adults — memorize a short quote by working with it as a puzzle.
Perfect to fill in time at the end of a language arts lesson pack, or to soak up a few extra minutes of class time. It can be done in class or at home.
We have included an autobiographical sketch, so it can be used as a mini-lesson. It's really nice, and we'll have some more freebies coming up this month that use this quote.
The cool part: you can download this for free for a limited time. Get the link delivered to your email right now. We won't email you again unless you want us to!
You can also join our free puzzle club because all the puzzles in it are free for you to use and enjoy!