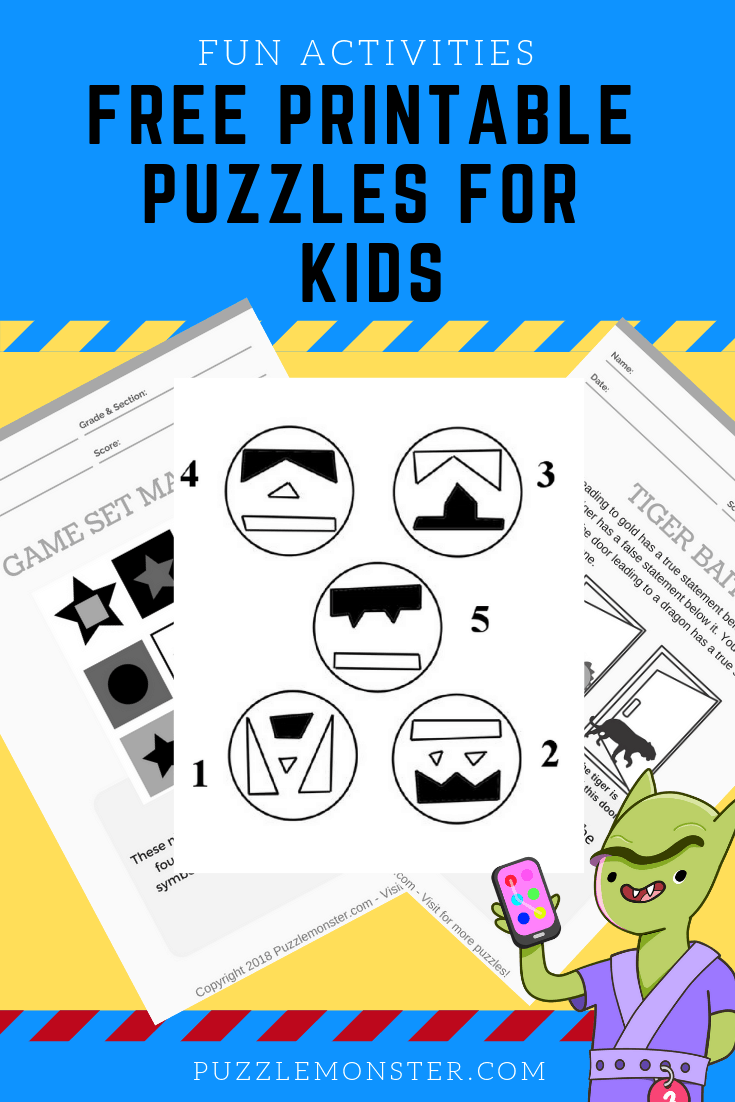 Imagine seeking out free printable puzzles for kids and finding a list of great puzzles reviewed by real puzzle nerds?
Or even better…
What if these free printable puzzles for kids were so fun and cool that they immediately challenged your kids, and got them working together as a team?
And even better — what if the puzzles were no-prep and ready for you, their busy teacher, to print and hand out?
Awesome news! That's exactly what we are going to be sharing with you in this post:
5 Printable Puzzles that will challenge and entertain both middle school and high school students — all printable, all for kids.
Here we go!
Free Mazes from BrainyMaze.com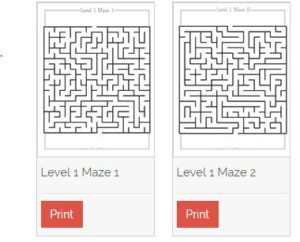 If your students like mazes, well, these folks have you covered. A TON of PDFs you can download and print — and they range in terms of difficulty, shape, and theme. Want something to keep your brainy middle schoolers engaged? Need a bellringer AND it's Valentine's day? Whatever the combination, Brainy Maze maze inventors have it all. The only thing we might improve on? Add an answer key! But mazes really may not need one —- let the kids make the answer key for you! 🙂
This site really shines in terms of themes. Wow. You'll find Alphabet Mazes, Beginning Letter Mazes, Holiday Mazes like Christmas, Valentine's Day, and more on this free printable puzzle website.
Thousands of Free Printable Puzzles from KrazyDad.com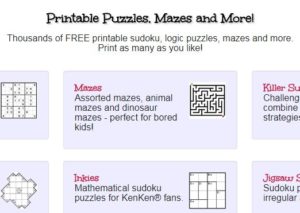 If you are looking for thousands (and I mean THOUSANDS) of printable puzzles — with answers and hints — KrazyDad.com is the place to visit. Sorted by difficulty within each category, and plenty of options for printing them (with hints, without hints, with answers, without answers, etc.). Sure you'll see Sodoku, but you'll also see more unique puzzles like Binox – ready to print and play!
KrazyDad is Jim Bumgardner, a senior nerd at Disney. He is a programmer / musician / composer / data-viz expert / author / artist / puzzle constructor / teacher with a passion for making software art and software toys. He's done work for Yahoo!, Ogilvy & Mather, Topspin, Macrovision, Time Warner, and various non-profits. He also occasionally teaches classes and workshops on various creative & technical subjects, most recently Processing at CRASHspace in Culver City.
David Pleacher's Collection of Printable Puzzles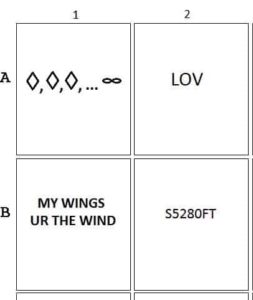 David Pleacher ("Mr. P") was a math and computer science teacher for 40 years. His website of puzzles is old-school and charming. There are no colorful graphics, no way to sign up for a mailing list for more puzzles, no social media. Perfect. Quietly awesome puzzles with answer keys – these are rendered on the website, not PDFs. You can even email Mr. Pleacher directly. How refreshing.
From his "about" page:
Mr. P taught mathematics and computer science for over 40 years at the following schools:
Dolgeville Central School (Dolgeville, NY),
Hartwick College (Oneonta, NY),
Washington-Lee High School (Arlington, VA),
Herndon High School (Fairfax, VA),
John Handley High School (Winchester, VA),
James Madison University (Harrisonburg, VA), and
Lord Fairfax Community College (Middletown, VA).

Mr. P has been happily married since 1968 and has three adult children and seven grandchildren.
Mr. P is now retired and living in Colorado.
Mr. P enjoys the music of Simon & Garfunkel, Elvis, Boney M, Alison Krauss, Buddy Holly, The Eagles, Jimmy Buffett, Queen, The Nitty Gritty Dirt Band, Meat Loaf, Alabama, among others.
To find out more about him, he's included a real-life puzzle to solve!
Eleusis (Express) by Puzzle Inventor Robert Abbott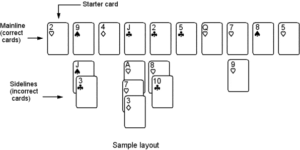 Puzzle inventory Robert Abbott has been designing games, mazes, and puzzles for decades. He's the inventor of Ultima, which was ChessVariant.org's Recognized Variant of the Month in 2001 (only 39 years after it was originally released). He's also the inventor of Eleusis, a card game that he considers his greatest achievement and the author of Abbott's New Card Games. We felt a compendium of printable puzzles would not be complete without sharing Mr. Abbott's work. These are serious puzzles for older and gifted students.
Eleusis Express is a card game of inductive reasoning. It is a modification of Robert Abbott's game Eleusis. Eleusis Express can be printed out and played right away.
Eric interviewed Mr. Abbott for Puzzlemonster – check it out for more information on this brilliant inventor of puzzles.
Free Printable Puzzles for Kids from Puzzlemonster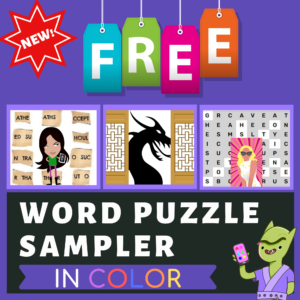 (Okay okay, so it's shameless self-promotion — but hey, we saved it for last! :))
Our puzzles are 100% original — if your kids have seen it all before, they will be happily surprised with these free printable puzzles for kids. Go over and download our freebie puzzles at Teachers Pay Teachers (a website dedicated to sharing teacher resources). They are no-prep, ready to print, and have great reviews!
Eric, our puzzle inventor, invents each type of puzzle and he's been making them quietly for many years. Eric's puzzles range from pure logic puzzles to visual puzzles and often are paired up with cool cultural references (like famous comedians and musicians). Here he is working on a program we're developing that will allow for easy puzzle editing last Saturday: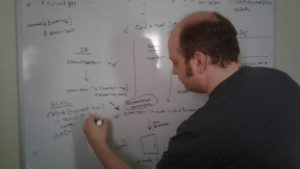 Now it's your turn
I hope you enjoyed our nerdy review of free printable puzzles for kids.
Now I want to hear from you:
How do you plan on using these printable puzzles in your classroom?
What would your ideal printable puzzle look like? How would it work in your classroom? As an activity, a worksheet — or even digitally?
Drop a quick comment below and let me know!