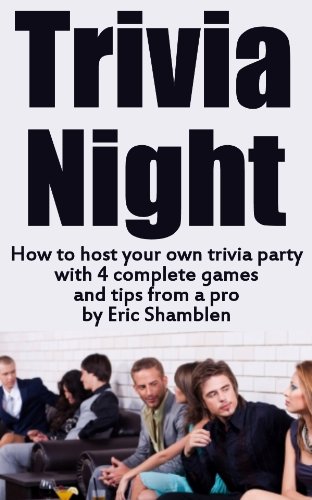 Just in time for your next party!
So you went out with friends and enjoyed a trivia night at a local bar or restaurant. And it was a lot of fun – except for the high-priced drinks, the smoke, the noise, and the questions about topics that you don't know or care about.
Or maybe you're just looking for a fun icebreaker at your next party.
Either way, Trivia Night is just what you need! This book contains four complete team trivia games featuring questions on fun pop culture topics, as well as tips from a professional on how to make your game night memorable and exciting for you and your guests.
Sample questions:
— Eminem's hit song "Stan" used a sample from what other song?
— Fran Fine was the title character on what '90s sitcom?
— Name the 2006 film that contained this line: "I'm not questioning your powers of observation, I'm merely remarking on the paradox of asking a masked man who he is."
Now with an interactive table of contents!
Author: Eric Shamblen

The puzzlemonster. Lifelong puzzle maker, animal lover, total nerd. Husband to Android developer.