Hello and welcome to spring! We've been busy crafting our handmade St. Patrick's activities for middle school and wanted to let you know about the cool ideas we've come up with over here at Puzzlemonster studios since we last wrote.
First up, we have some AWESOME St. Patrick's activities for middle school kids. One is a freebie, and the other is a breakout box with a lovely prize.
ELA – St. Patrick's Word Scramble Freebie
First up, we have a new fun, free St. Patrick's activity. It's a word scramble that's similar to our popular Quotation Detective puzzles, so it's great for ELA.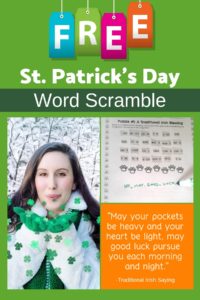 This puzzle is based on a Traditional Irish saying.  It is all about peace and prosperity all year round. Plus, it's something that can be taught year round, because the worksheets themselves are easily edited.
Download this FREE St. Patrick's freebie today!
ELA – St. Patrick's Activities for Middle School – Make Your Own Origami Kitty in a Hat
Next, we know you are going to love this new St. Patrick's activity for middle school kids — it's like our wildly popular Thanksgiving turkey, but new puzzles and an awesome kitty in a hat prize – this activity will make your week!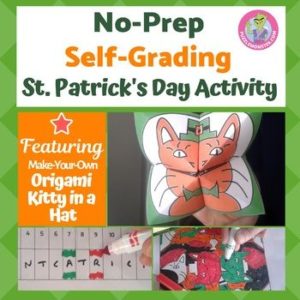 It's more than just a St. Patrick's escape room, a breakout, a color by number activity, a cootie-catcher — it's a team-building journey for your students that requires almost no prep from you.
Plus, there's a lovely, lovely prize that kids can take home with them.
Oh and did we mention, it's self-grading, too? Check it out now to see how unusual this breakout is – we think you'll love it!
More Freebies for your Middle School Kids
Have you downloaded our new primary freebie yet? 
It's got three awesome brain teaser puzzles, including answers, to keep your kids engaged and smiling.
We may be decommissioning it soon, so go grab it today!
Most of all, we feel so blessed to be creating for
teachers at TpT
. Thank you for welcoming us and sharing our puzzles with your kids! Every time you download one of
our puzzle
collections we are filled with joy and gratitude! I know I keep saying this, but it's true. We are lucky to know that kids all over are enjoying our creations!
Thank you!!!!!
—Eric and Friday from Puzzlemonster