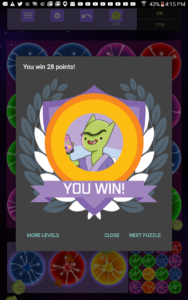 Do you live in Australia, New Zealand, South Africa or the Philippines? Plasma is now available to you! Come play lots of free puzzles.
The goal of the game is to match the model at the bottom. The colorful plasmas change and even disappear based on color mixing rules (remember, blue and green makes yellow?). We use AI to make the games harder as you get more skilled at them so you are always challenged and having fun.
Let us know what you think!