Plasma is the first of many addicting games designed for Android by Puzzle Monster. Its unique color logic puzzles are simple to learn, and challenging to master!
[embedyt] https://www.youtube.com/watch?v=ibVnvh_N61o[/embedyt]
Futuristic and retro, intense and yet still chilled, Plasma's addicting logic puzzle games will expand your mind and divert your full attention. It's simple: fill a grid with colorful Plasma spheres. Each Plasma may affect its neighbors, making them change color or even disappear. Match the model at the bottom of the screen and win the game!
Train your brain and stay mentally fit with hundreds of hours of unique challenges while on the bus, waiting in line, at school or on a coffee break.
Note: on the Mind-Blowing level, every logic puzzle game does have a solution, no matter how impossible it seems!
Features:
Over 100 free logic puzzle games to keep your mind busy for hours
When you upgrade, get hundreds more premium puzzles with a single in-app purchase
No clock, no pressure: pause game and resume at any time
Play offline games – great for those long subway rides
Beautiful graphics with portrait or landscape play – a treat for your eyes as well as your brain
Easy-to-use controls let you play with just one hand
Mute sounds so you can keep playing during that board meeting
A restful break from a hectic day!
Register to be notified when Plasma launches in the Google Play store!
I'm independent puzzle inventor Eric Shamblen. My wife Friday and I are developing Plasma for release on Android phones and tablets and Google Chromebooks.  Plasma is based on Rainbow Box, an original online color logic puzzle game that I had created in the mid-2000s. While both games use the simple mechanics of color theory on a four-by-four playing grid, Plasma has added three additional levels of addicting game play for a variety of challenges to suit your mood and abilities. It also features amazingly beautiful graphics and scoring so you can compete against your friends and other players around the globe.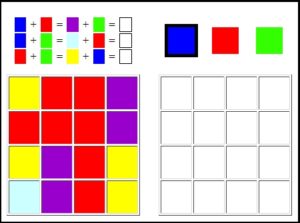 Rainbow Box, circa 2014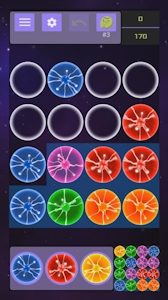 Plasma, coming 2018
Each of Plasma's over 1000 puzzles is unique and was designed using artificial intelligence to provide progressively more difficult challenges. The Basic Level fills in most of the grid for you; the Advanced level fills in less; the Clean Slate level presents you with a completely empty grid. The Diabolical level, as its name implies, will stretch your brain by presenting you with a partially-filled grid where some (or many!) of the Plasmas are completely wrong, and must be cleared out and replaced in order to win the game. Even I have only been able to solve a small fraction of the Diabolical level logic puzzles – are you up for the challenge?