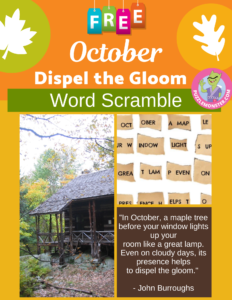 Are you looking for something fun for your kids to do as the days start to become shorter? We just released an October freebie: it's one of our famous word scrambles using a quote from naturalist John Burroughs. We wrote an autobiographical sketch of him that we included in the puzzle so your kids can learn about this interesting person in history. It's a win-win.
The cool part: you can download this for free for a limited time. Get the link delivered to your email right now. We won't email you again unless you want us to!
You can also join our free puzzle club because all the puzzles in it are free for you to use and enjoy!