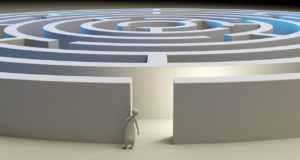 Maze Games
Robert Abbott is the inventor of logic mazes, also called multistate mazes or "mazes-with-rules." He's been creating and publishing them since 1962, when the first appeared in Scientific American. Although his website is rather basic, his interactive maze games are anything but.
These are not your grandfather's maze games, where your hardest task is keeping your pencil within the lines. In fact, many of these mazes have no visible lines at all; your hardest task is figuring out how the mazes work. For example, there are Eyeball Mazes, where you jump from one square to another based on the color or shape of the symbol on that square; Alice Mazes, where the number of squares you can jump depends on the squares you've already landed on; and the Sliding Door Maze, where you have to correctly align three sliding doors in order to escape.
The mazes that fascinated me the most, unfortunately, were not available on the site but could only be described: Walk-Through Logic Mazes. Traditional-style hedge maze games can be lots of fun; I recently visited the World's Largest Maze at the Dole Plantation in Hawaii, and had great fun for about half an hour wandering through it and hunting various colored boxes. But in order to be challenging, traditional hedge mazes must be large, and space constraints can be prohibitive. Abbott has designed walk-through mazes that can occupy very small spaces, yet be incredibly challenging. One such is the Bureaucratic Maze, which has no walls. It simply has 5 desks with 5 different bureaucrats, and your task is to carry different forms from one table to another until you either give up in frustration or finally get a form saying "Congratulations, you solved the maze."
This site is fun, challenging, and inspirational (see my logic puzzle game app for Android). Check these maze games – you will be challenged and inspired too!
And if you want to get a new puzzle every day, check our our free daily puzzle page!

The puzzlemonster. Lifelong puzzle maker, animal lover, total nerd. Husband to Android developer.