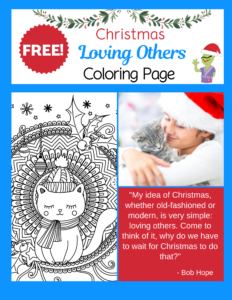 Beloved entertainer and humanitarian, Bob Hope, once said: "My idea of Christmas, whether old-fashioned or modern, is very simple: loving others. Come to think of it, why do we have to wait for Christmas to do that?"

We've incorporated this lovely sentiment into a beautiful coloring page appropriate for all ages. The image features a sweet cat and can be used for Christmas or wintertime activities.

Looking for a team-building Christmas activity that fills an entire period? This quote is featured in our puzzles with prizes wintertime activity packs. Our puzzle packs contain puzzles for ELA or for math and lets students create their own Christmas silly elf prize!
Christmas Coloring Page Freebie