The days are short, dark, sometimes gloomy. Cabin fever starts to set in as anxious kids stare at the calendar, waiting for winter break. What can you give them as a treat this time of year? Why not give them a fun puzzle that will remind them that loving others is a year-round activity?  Download our fun word scramble Christmas activity for kids (download here at TeachersPayTeachers.com).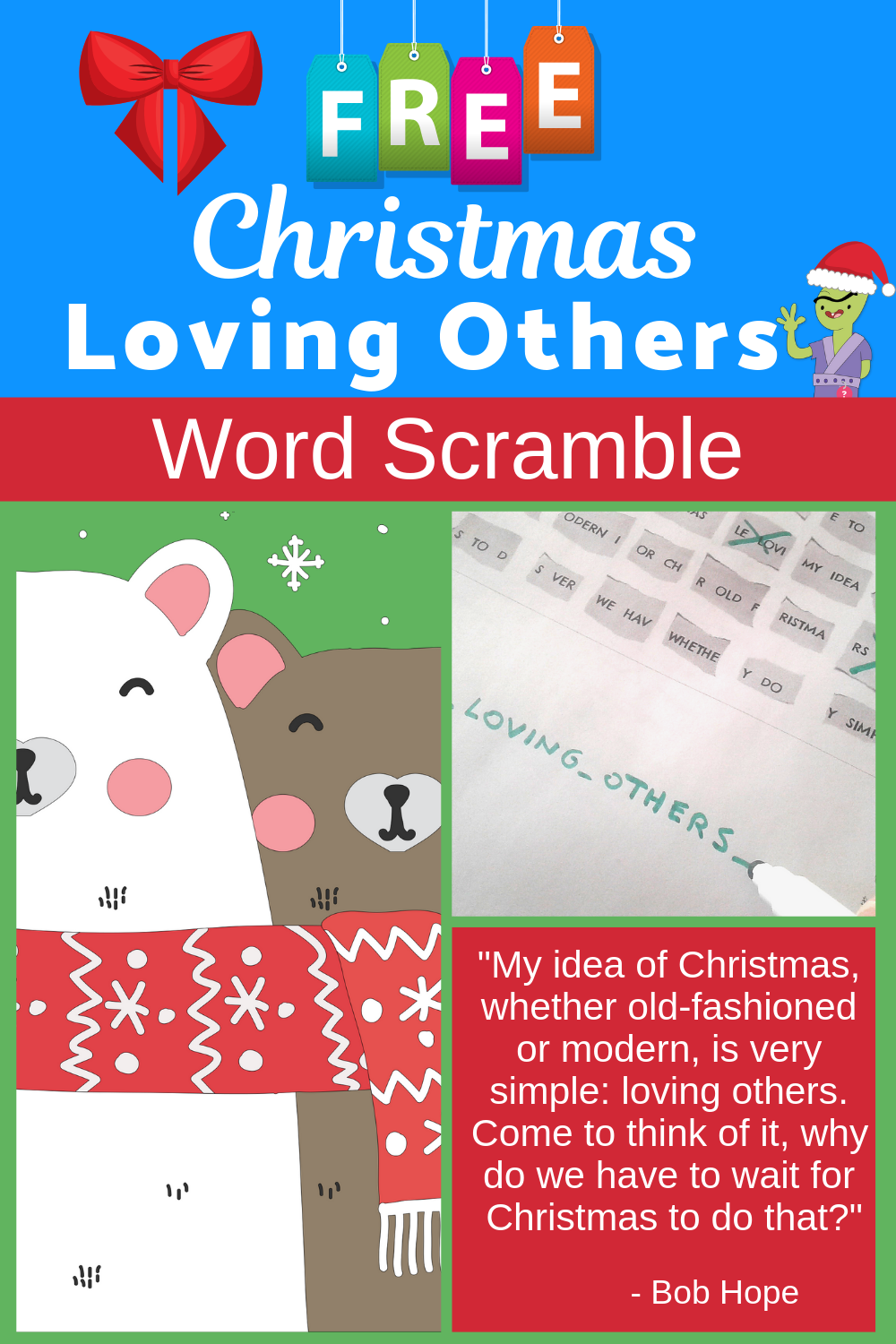 This activity is just perfect to fill in time at the end of a language arts lesson pack or as a morning warm up.  Your students will get to work with an inspirational quote as the holiday season approaches and brush up on their language skills at the same time.
How to use this Christmas Activity for Kids
Beloved entertainer and humanitarian, Bob Hope, once said: "My idea of Christmas, whether old-fashioned or modern, is very simple: loving others. Come to think of it, why do we have to wait for Christmas to do that?"
The words in this quote have been scrambled. Your students will be challenged to solve the puzzle by arranging the words into the correct order, reconstructing the quote. It's similar to our Thanksgiving Gratitude activity.
If you want to use this Christmas activity for kids in teams, you can project it on a whiteboard. This way, a group or the entire class can work on it together. Some teachers print out the little slips of torn "paper", laminate, and use them over and over as a re-usable activity!
You also get an answer key, which is provided with the quote assembled. The PDF is editable, so you can use it any time of the year. All you would have to do is remove a couple of art elements to use it anytime.  This freebie is also part of a larger escape box activity, so if your kids like it (and they will!) try the escape box too!
We hope you enjoy this free Christmas activity for your kids! We enjoyed making it for you!
–Eric and Friday from Puzzlemonster

Developer, gardener, animal lover. Wife of a puzzlemonster. My coding resume shows my age: Wordperfect reveal codes => HTML => ASP Classic => SQL => JavaScript => jQuery => PHP => WordPress under-the-hood => Java => Android dev.