Visual Puzzle Game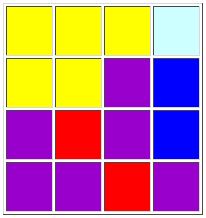 Looking for a unique, colorful challenge? In this visual puzzle game, you can enhance your brain fitness by reproducing the pattern of colors in the Rainbow Box on the left to the empty Rainbow Box on the right. Each new visual puzzle game tests your logic skills and ability to plan ahead.
To play:
1. Click on the blue, red or green box in the top right corner of the screen below to select that color.
2. Click on any empty square to add the selected color.
3. If there is a color already in an adjacent square, that square may be affected by the color you add. You can use the color chart in the top left corner as a handy reference.