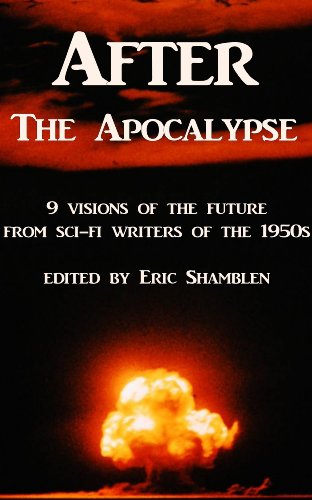 Suppose the apocalypse happens tomorrow. Then what?
We look back to the 1950s to find nine excellent answers to this question, many of which have never been reprinted since their first publication, and edited them especially for the Kindle and other e-readers. You'll find stories from Poul Anderson, Hilbert Schenck, and Evelyn E. Smith, among others.
Contents of this volume:
The Last of the Spode by Evelyn E. Smith. The quintessential British approach to the end of the world.
One Fine Day by Howard Rigsby. Suppose you could survive the opening salvos of the final war. Would you want to?
A Man of the World by Lester Cole. A year after the bombs drop, a young woman and her companion encounter a brutal "madman."
Tomorrow's Weather by Hilbert Schenck. Survival may depend on one man's devotion to his humdrum job.
Created He Them by Alice Eleanor Jones. This haunting story examines the problem of repopulating the Earth.
The Pioneer by Will Stanton. How will the founders of the new society view what they helped to create?
The Last of the Deliverers by Poul Anderson. Suppose the apocalypse comes through simple technological obsolescence?
Vacation by John Christopher. One couple truly has the vacation of a lifetime.
Lion by P.M. Hubbard. As generations pass, more may be lost than mere knowledge.
Authors: Evelyn E. Smith, Howard Rigsby, Lester Cole, Hilbert Schenck Jr., Alice Eleanor Jones, Will Stanton, Poul Anderson, John Christopher, P. M. Hubbard, Eric Shamblen